If you love eating eggs for breakfast but are tired of your basics, then frittata is something you should try. This Italian egg-based dish is easy and quick to make and you can customize it to your taste. 
Eggs are one of the best ingredients for a healthy breakfast. They are rich in protein and provide you with energy for the entire day. But boiled eggs and omelets can get rather boring.
Seriously, after my 'eggs for breakfast phase', I thought I was over them for good.
This is until frittatas come into play. 
What Is A Frittata?
Frittata is an Italian egg dish similar to an omelet. It is a mixture of eggs, cream or milk, cheese, vegetables, meat, and other ingredients of your choice. 
Really, it is essentially a quiche with no crust. It differs from an omelet though, which cooks quickly. A frittata on the other hand, cooks slowly and on low heat.  
What we love about this recipe is that it tastes fancy, but it's so easy to make. It's healthy and packed with protein, and really, it makes a fabulous keto breakfast (if you follow a low carb diet).
Perfect hot or cold, you can literally clean out the fridge with it. 
Ingredients Needed
You don't need any special ingredients to make my hearty spinach frittata. You most likely have all of them in your kitchen at all times. And if you don't, that's okay: it is super simple to customize! Here is what you'll need: 
Eggs. You obviously need eggs to make a frittata. Use as many eggs as you need depending on the number of people you are cooking for.

 

Bacon. There is nothing better than waking up to the aroma of fried bacon. Things get even better when you add these crunchy salty bits into the egg mixture that then turn into a fluffy egg pie.

 

Spinach. Greens in your food are always a good idea. I use baby spinach for this recipe for added flavor, color, and nutrients.

If you don't have the baby kind on hand, use English spinach or thawed frozen spinach. 

Heavy cream. Heavy cream mixed with the beaten eggs is the secret to a creamy and rich frittata.

 

Cheese. This recipe calls for Swiss cheese as it has a mild nutty flavor and melts well. Whatever cheese you use, ensure it is well shredded. 
How To Make A Frittata
This recipe really is very simple to make and although it may look like a fair few steps, it actually comes together very quickly and the oven takes care of all the hard work! 
Step 1- Preheat the oven and prepare the pie dish
Before you prepare the ingredients, turn on the oven to 180C/350F degrees. Next, prep a pie dish you will be using. I recommend at least a 9-inch pan for this recipe. Grease it generously and leave it aside while you prepare the ingredients. 
Step 2- Fry the bacon
Next, chop the bacon and fry it in a non-stick pan over medium heat. When the bacon gets crispy, transfer it onto a plate lined with paper towels. 
Step 3- Saute the spinach
Now, proceed to sauteeing the spinach leaves. Put them into the pan that has the bacon fat in it and cook it until it is wilted.
Step 4- Prepare the egg mixture
Next, prepare the egg base by cracking the eggs into a large bowl. Add the heavy cream, salt, pepper, and garlic powder, and whisk until fully combined. 
Add the bacon, spinach, cherry tomatoes, and shredded cheese into the beaten eggs. Mix to disperse the add-ins in the egg mixture. 
Step 5- Bake
Pour the frittata mixture into your pie dish. Bake for 15 to 17 minutes or until the eggs are set. 
If you are not sure if your frittata is fully cooked, give the pan a little shake. If the eggs are not slushing around and look solid, remove it from the oven. You may leave it a few minutes longer under the broiler if you like your frittata to have a brown top.  
Once removed from the oven, let it sit for 5 minutes before slicing and serving. 
Tips to make the best recipe
A frittata is really one of the most foolproof recipes but to ensure perfection, follow these expert tips for success. 
Don't skip the dairy. Adding dairy into the egg mixture results in a creamy and light frittata. If you don't have heavy cream, use milk, half-and-half, or Greek yogurt. 
Cook the add-ins. We recommend you cook the add-is first before you combine them with the egg mixture. Doing this creates a better overall texture as well as prevents the add-ins from releasing moisture into eggs while you bake them in the oven. 
Don't over-bake. Baking gives the frittata a golden crust that contrasts beautifully with its light and fluffy texture. However, too long and you risk the dish being chewy. Remember, this will continue to cook as it is cooling down. 
Flavor variations
Frittata is a blank canvas. You can mix and match various ingredients to create flavor combinations that you like. 
Vegetables. For vegetables in frittata, the options are endless. You can add onions, bell peppers, potatoes, carrots, zucchini, asparagus, and other veggies of your choice. 
Greens. Leafy greens pair nicely with eggs. You can add arugula, kale, collard greens, and Swiss chard to your mix to make it more colorful and nutritious.
Meat. If you are making a frittata for lunch or dinner, it is a great idea to add some type of meat to it. You can use chicken, beef, sausage, as well as deli meats of your choice. 
Herbs. There is nothing worse than a frittata that tastes bland. One way to make your frittata taste better is to use herbs. Chives, thyme, rosemary, parsley, and mint will instantly make your frittata more aromatic. 
More savory breakfast recipes to try
Frequently Asked Questions
Is frittata better hot or cold?
The beauty of a frittata is that it can be enjoyed both hot or cold. If you use plenty of cheese, it's better to enjoy it warm so it melts and lends a better flavor.
Is this low carb?
With just 3 grams of net carbs per serving, this recipe is keto friendly.
Can I use all egg whites?
To lower the calories, you can swap out half the eggs with egg whites. Do not use all egg whites or else the frittata will be rubbery.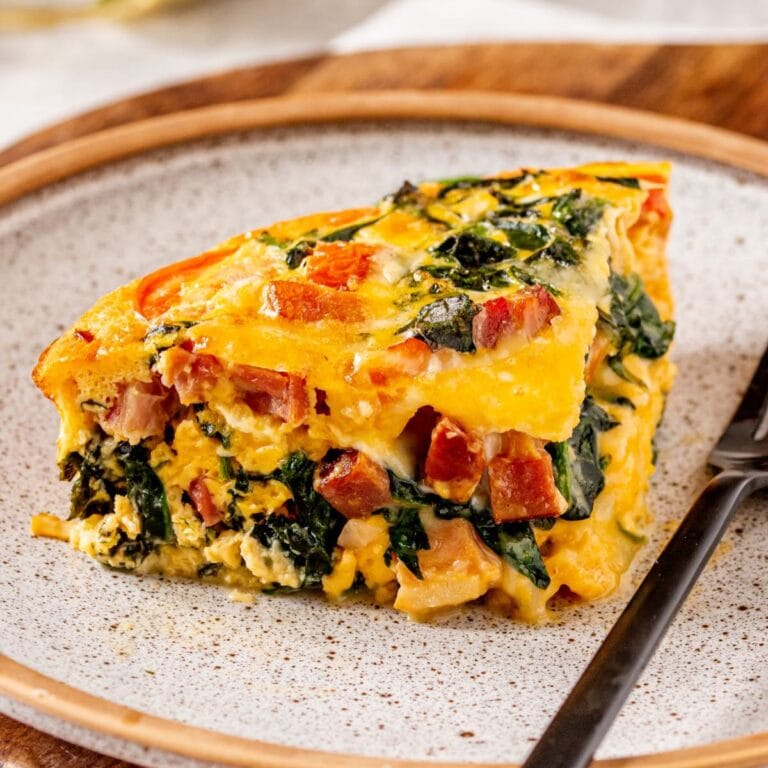 8

ounces

bacon

finely chopped

3

cups

baby spinach

firmly packed

8

large

eggs

room temperature

1/4

cup

heavy cream

1

teaspoon

garlic powder

1/2

teaspoon

salt

1/2

teaspoon

pepper

1

cup

cherry tomatoes

halved

1

cup

cheese

shredded
Preheat the oven to 180C/350F. Generously grease a 9-inch pie dish and set aside.

In a non-stick pan, add the bacon and place it over medium heat. Let it crisp up for 2 minutes, before setting aside on some paper towel to soak up excess oil2

Place the pan back on the heat with the bacon fat and when hot, add the baby spinach and saute until wilted. Transfer onto a plate with the bacon. 

In a large mixing bowl, add the eggs and heavy cream and whisk together until combined. Add the garlic powder, salt, and pepper. Add the cooked bacon, spinach, cherry tomatoes, and shredded cheese. Mix to distribute the ingredients. 

Transfer into the pie dish and bake for 15-17 minutes, or until just set.
TO STORE: Leftovers can be stored in the refrigerator, covered, for up to one week.
TO FREEZE: Place the cooked and cooled frittata in an airtight container and store it in the freezer for up to 6 months. 
TO REHEAT: Either microwave portions for 30-40 seconds or enjoy at room temperature. 
Serving: 1serving | Calories: 280kcal | Carbohydrates: 3g | Protein: 14g | Fat: 24g | Sodium: 510mg | Potassium: 253mg | Fiber: 0.4g | Vitamin A: 1678IU | Vitamin C: 7mg | Calcium: 148mg | Iron: 1mg | NET CARBS: 3g